So apparently 2 monsters and multiple s/ts isnt considered an archtype by some so I have a solution...I shall make my own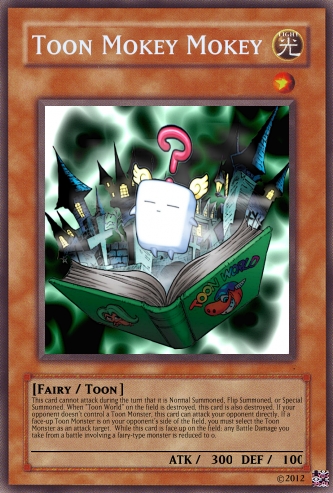 "This card cannot attack during the turn it is normal summoned, flip summoned, or special summoned. When "toon World" on the field is destroyed, this card is also destroyed. If your opponent doesn't control a toon monster, this card can attack directly. If a face-up toon monster is on your opponent's side of the field, you must select the toon monster as an attack target. While this card is face-up on the field, any battle damage you take from a battle involving a fairy-type monster is reduced to 0."
"While this card is face-up on the field, its name is treated as "Mokey Mokey". During either player's turn you can banish this card from your graveyard to special summon 1 "Mokey" monster from your graveyard. The effect of "Necro Mokey Mokey" can only be used once per turn."
I also plan on making a cyber mokey with a mystic tomato kind of effect along with these others which i have no effect in mind for yet.
Pyro Mokey-psychic type(because he isnt made of fire he just controls it)
Botanical Mokey(Plant)
MokeA2(Alien)
Pseudo Mokey(Pseudo space)
Darklord Mokey Mokey(It's in the title)